Press Release on Family-Owned Forests and the  Harvesting, Consumption, and Distribution of Tree Species.
The Ministry of Forests and Environment of the Government of Nepal highlighted the concerns of private forest owners regarding the logging, consumption, distribution, and sale of the timber from various species grown on their lands. The government's acknowledgment of these issues has drawn attention to the serious challenges faced by private forest owners and has sparked discussions on the need for policy reforms.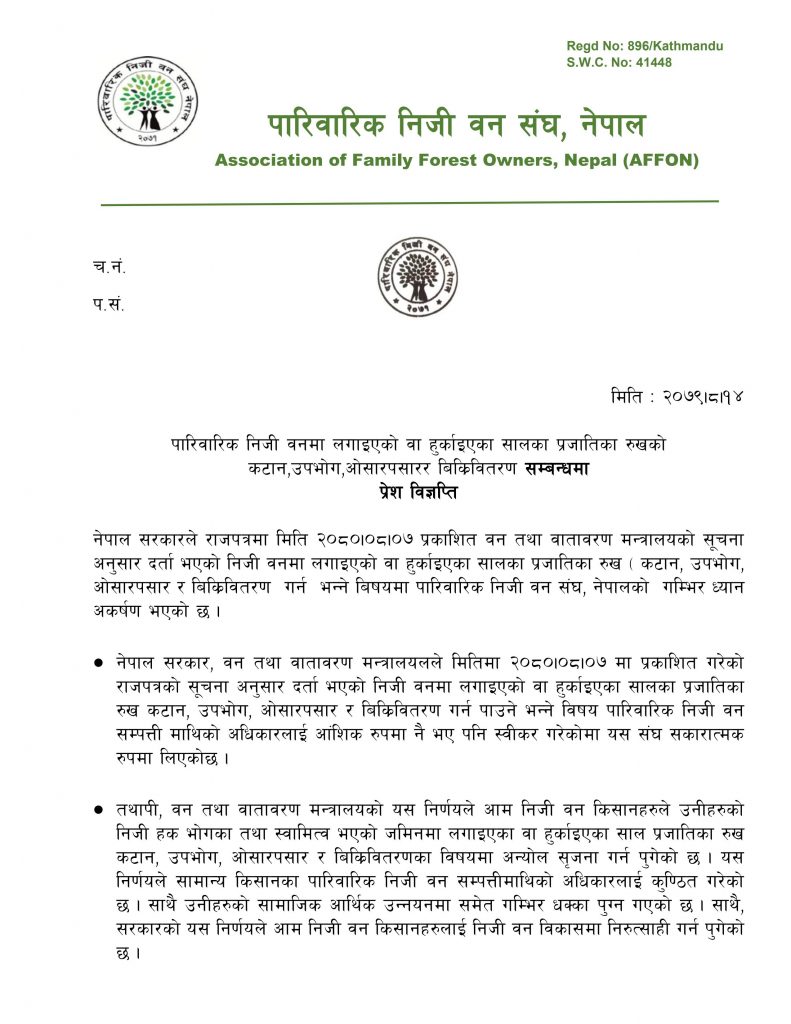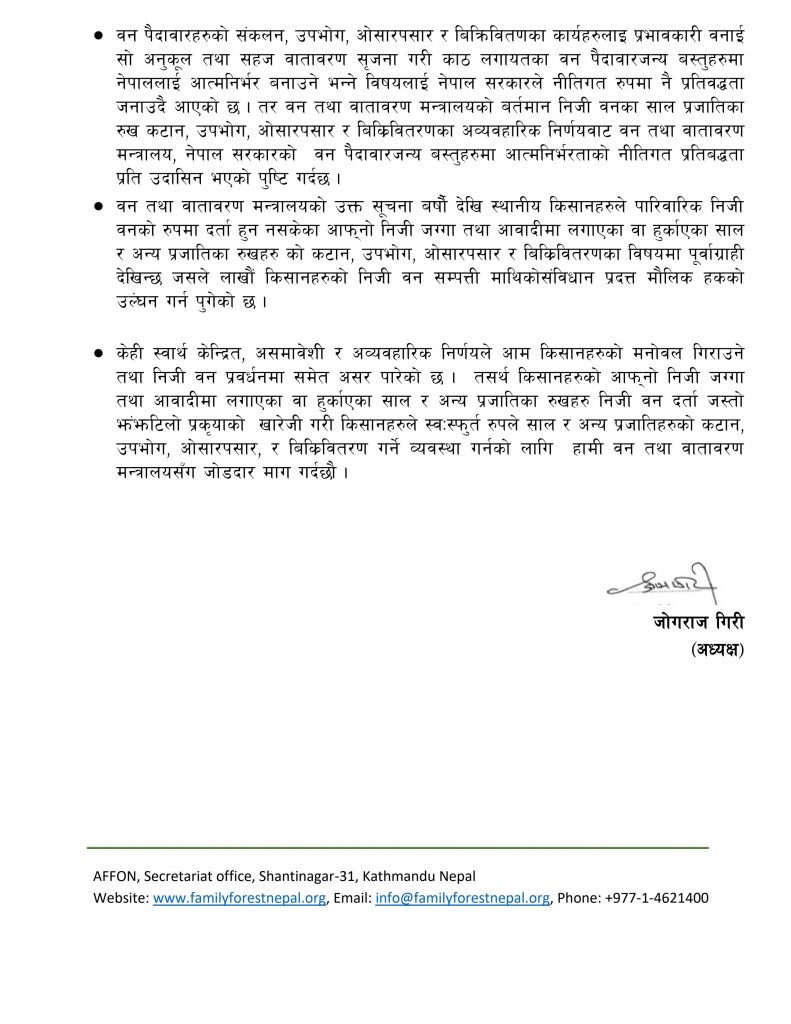 AFFON's Interventions during COVID-19 (2nd phase) !
AFFON seeing the need of  various  medical equipments in the nearby isolation centers and hospitals , supported  with water dispensors,  Intra-veinous stands  , fans ,  cupboards , refrigerators, masks, sanitizers, thermometers  etc. in various districts.  In the leading role of Province Committees, District chairpersons, and other key members, the need identification and equipments distribution was made. With AFFON centers financial support, the relief activities had been carried out.
This campaign was initiated by distributing masks, sanitizer, thermometer etc. in Gorkha Barpak, Sulikot rural municiapl and Kanepokhari rural municiapl in the leading role of Treasurer AFFON Mr. Rajendra Bhatta and Secretary AFFON Mr. Nabin Poudel respectively. Later, the same initiation turned to distribution of water dispensors and other medical equipments in different isolation centers and hospitals of various districts.  Please follow the link below to go through the video clip :https://www.facebook.com/100009399210371/videos/2966941460295799/
The details regarding the distribution have been mentioned in the table below:
S.N
District
Municipality / Rural Municipality/ Hospital / Isolation Center
Distributed equipment
Number
Remarks
1
Dang
TSMC isolation Center 2

Shantinagar hospital 1

Water Dispensor
3
2
Morang
Kanepokhari RM Isolation Center 1, Pathari Sanischare RM 1, Urlabaari Municipality 1
Water Dispensor
3
3
Gorkha
Barpak Sulikot RM, RCUP Isolation Center
Water Dispensor
1
4
Ilam
Ilam Hospital
Intra veinous stand
5
Nawalparasi
Bardaghat Isolation Center
Water Dispensor
1
6
Palpa
Palpa Hospital
Water Dispensor
1
7
Jhapa
Baradashi RM
Water Dispensor
1
8
Bardiya
Bardiya District Hospital
Water Dispensor
1
9
Makwanpur
Rakshirang RM Isolation Center
Table Fan
8
10
Bhaktapur
Suryabinayak ward 10, Isolation Center
Medicine Storage Cupboard
1
11
Kathmandu
Gothatar Health Post
Medicine Storage Cupboard
1
12
Rautahat
Chandranigapur Ilaka Hospital
Refrigerator
1
13
Tanahu
G.P Koirala Respiratory Hospital
Water Dispensor
1
14
Lamjung
District Community Hospital , Lamjung
Water Dispensor
1
15
Dhulikhel
Namobuddha municipality , ward-2 Kavrepalanchowk
Water Dispensor
1
News Links on the activities carried :
https://www.khulanepal.com/2021/06/08/32279/?fbclid=IwAR1JeQtnp_lR6t42Ywb00TG5zrvFxvQo4l6zNyFYqdhizKSlOO2X1QxfxIA
https://www.maipokharinews.com/2021/06/ilam-hospital.html?fbclid=IwAR1EkH3TEzoqRW7ccMtLGkG01FVc-PhIAC0hZaHSzNI6b9hMzI1G2t3q1MU#.YMRO6J6-BAo.facebook
https://narikosis.com/news/11256/?fbclid=IwAR0m8nVkvbm0kAFVNYoWPcV4DD2msz8mz-thy1UOaacwB39yI-ggt44ib4U
https://newslaya.com/2021/05/46974?fbclid=IwAR1trHtrUMTdOid31cCPphR1P4PKkZ8XF4EDSBaoWSs8l3aJnBL_1tap3gs
https://tulsipurkhabar.com/archives/55039?fbclid=IwAR0jp2ZzIfYKEQN1U_N5j8socdGkAYhlcYnKfXICJiNfLj-rKvpCSSo1E8s
https://newslaya.com/2021/05/46974?fbclid=IwAR1trHtrUMTdOid31cCPphR1P4PKkZ8XF4EDSBaoWSs8l3aJnBL_1tap3gs
https://nigaranitimes.com/2021/06/8928/?fbclid=IwAR1KtlW6aigmnhfd_ObDjuwu0ZYjZQ4cMOJR4F_aR8iiuHk6B0HIoKshRMI
https://nigaranitimes.com/2021/06/8934/?fbclid=IwAR19l04-3PEiM1sVnr1HyqSAQSwzXsNOLmwUTOd8VcP5B18Tx1r55xrbN5U
AFFON's Interventions during COVID-19 (1st phase) !
The president of American Farm Bureau Federation, Zippy Duvall's statement about the significance of food security in our lives during this pandemic has raised another serious concern to all of us as he states ," Empty shelves can be frightening , but empty fields and barns would be devastating " Even barren forests are going to be devastating for us .
The spread and impact of COVID-19 is unprecedented. This public health emergency will likely result in a global economic crisis – both of which will hit the poorest and most marginalized communities the hardest. These twin crises expose the widening inequality around the world and threaten to exacerbate the gap between rich and poor sending us back decades in our progress towards a more equal world.
While, there are numerous risks to the forest cover we own , and also the other natural resources . As, a serious drawback of the pandemic, unemployment  is sure to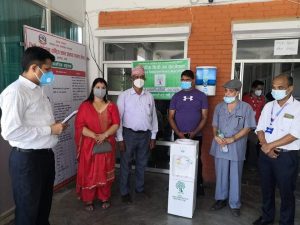 suffer many, we can foresee that unemployed people will highly depend upon natural resources for continuing with their livelihood. This will surely put our natural resources and especially forest cover in a greater risk. The role of associations like AFFON is believed to have high importance to sensitize people the ways to cope up with the pandemic and encourage many farmers towards Forest-based enterprises and sustain in a more difficult environment like today.
As COVID-19 unfolded, it's impacts have affected many low income people especially self-employed people, domestic workers and those in casual or temporary agency employees exacerbating pre-existing social and economic inequalities barriers and discrimination in their homes and communities. Local farmers are also not away from the consequences of the pandemic but they are a bit safer in a sense they can grow on their land, are independent for food and can engage themselves in their family forests and productive land during the lock-down. Despite this fact, many farmers in the villages are compelled to waste their vegetable and farm products just because they are unable to transport them to nearby market, also they are facing problem in managing seeds for new crops, buying various manures and essentials for plants and crops they are facing serious problems too. Additionally, the effect of the pandemic upon the markets and farm prices is difficult to meet up with , farmers are lacking infrastructures to continue the supply chain. Even the questions about Farmer's health , the farm workforce availability and safety of the workers have remained another serious concern. Therefore, they all require special attention at every stage during such pandemic.
Advocacy and media campaigning
Association of Family Forest Owners, Nepal (AFFON) is continuously lobbying to the government in all tiers, National Planning Commission and Natural Resource Management Partners through virtual mediums to include agro-forestry, herbal and medicinal plants, cash crops etc. as one of the major agendas to be inco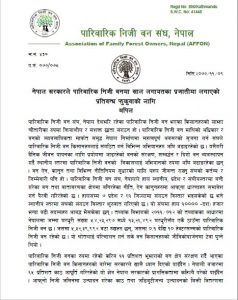 -rporated in the new policies and plans so that easily, family forests can be turned into agro-forests to further cope up with pandemics like COVID-19 in days to come too. Recently, AFFON has begun it's attempts to submit the demands of AFFON Provinces to Province Governments and Ministries for incorporating issues of Family Forestry while formulating new plans and policies in the Provinces. On 23rd May, AFFON Province Committee , Province-5 submitted the demand paper with various 14 points that need to be seriously incorporated in the new plans and policies.
The farmers have been receiving information about COVID-19 and it's prevention from various sources of media like radio, T.V , internet and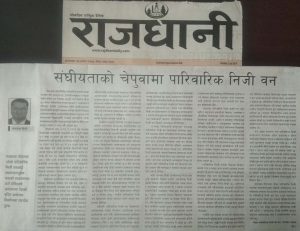 social media. Some of the Family Forest Owners (FFO) have been receiving information from various groups , networks, municipality, wards, NGOs , volunteers etc. Understanding the need to information AFFON networks are also trying to sensitize the FFOs and farmers about the pandemic. As one of the major part of advocacy is awareness , AFFON raised virtual awareness campaign through it's website, facebook (photo frame with an informative caption, Case study of successful farmers) and played radio jingles through FMs in all provinces highlighting upon the linkages between the pandemic and natural destruction and how FFOs can empower themselves through the protection of such natural resources along with the securing of their livelihood. AFFON also issued a release on COVID-19 dated 23rd March and shared it in it's n
etworks through it's facebook and website. Not only tat, an awareness poster was also designed for the farmers in Nepali language. AFFON in solidarity with the various CSO's of Nepal , AFFON too signed a Cordial Press Release of Federations on 9th April 2020, for Civil awareness and social justice while combating COVID-19 !
Also, AFFON's new issue of it's bulletin is focused on the pandemic and has published vario
us articles and views on it that are helpful to FFOs and farmers. Not only that through the various online and print media, AFFON Board members and staffs became able to  publish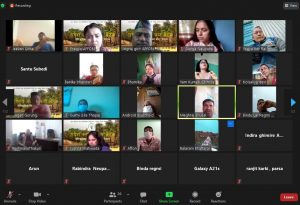 their write ups and articles about the serious concerns like farming and economy, family forests' importance, significance of small enterprises , forest-based enterprises etc. during the pandemic. Likewise, AFFON central and different committees continued with series of virtual talks with it's members and networks and found that the major reasons cited for not receiving government mandated relief provisions was they lacked awareness about the package and some were not eligible to access the relief package as the package was only for the most vulnerable population.
Support to vulnerable during the pandemic 
Also, in Dang district, through AFFON Dang Chapters co-ordination with Tulsipur municipality, 500 HHs of FFPOs were home delivered seeds of wheat, maize etc. in 50 % discounted amount
. Similarly, leading AFFON districts like Dailekh and Dang respectively    feed the vulnerable in this pandemic and distributed 500 kgs of rice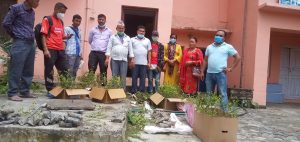 to the marginalized individuals who can't afford food and AFFON Dailekh in coordination with Lions Club of Dailekh fed vulnerable people during the pandemic. Likewise, through it's excellent lobby AFFON Dang became able to convince Federal Parliamentarian, identify and refer vulnerable people for sanitizer, gloves, mask distribution. The best part became AFFON Dang's excellent role in developing the work module of Labor Bank in coordination with Tulsipur sub-metropolitan where vulnerable can pay for their food through their labor.
AFFON's priority for now is to develop strategies for returnee migrants who can be involved in various Forest based enterprises. Some local governments have begun developing specific guidelines on how to maximize land use which is very appreciable and welcoming ! When asked about the type of livelihood they want to engage in; most of them revealed that they want to enroll themselves in forest based enterprises and enhance their farming skills, livestock farming, agriculture , small business and initiating some small entrepreneurship !
Challenges faced by women FFOs during the pandemic ! 
Women FFOs are the busiest ones during this pandemic, as they share the heaviest work burden in the family from household chores to agricultural crops to family forests to caring babies and many more. And this leads to women's high exposure to the outer environment which increases the risk to be infected by the pandemic and chances are the whole family might get infected. There are no other secure option for Nepalese women to risk their lives to the pandemic just for continuing their family and completing the household chores. Also, there lies high risk of the women becoming prey of various forms of Gender Based Violence (internal and external both). Women need to travel to the marketplaces in order to buy the daily goods and supplies, seeds and fertilizers for their crops, medicines for the family, etc. but they are unable to travel with a secured heart. Even if the nearby boundaries are locked or sealed women need all these essentials for the livelihood which they have to manage solely. Another challenge for women is they need to stock up seeds, food and essentials in these kind of pandemics and emergencies, they need to store firewood for rainy season that is nearby and also the food stuffs and grains. But they are facing numerous problems in both saving themselves from the pandemic, risk of numerous forms of gender-based violence and inability to fulfill their family needs and preserve stocks for future.
Similarly, the pandemic has continuously disrupted the patterns of small-scale planting, harvesting and distribution and women farmers are forced to sell their products at low prices set by the traders. They have also been continuously struggling for seeds and fertilizers as are unable to travel easily and the markets are shut down.
"Need to maintain human-nature relationship" Indira Ghimire, Senior Vice-chairperson, AFFON
COVID-19 has adversely affected upon the lifestyles of people in Nepal, mostly of women . Even if, the production is average like other years due to the impact of the pandemic in all other sectors the farmers are unable to take their products to the markets , which has directly affected upon the economic status of people. Now, it is the peak time for plantation but seedling /sapling collection, transportation, problem in forest extension, economic problems and many more risks are emerging .  The community based organizations and Federations like AFFON , have been playing an active role in assisting the government for referring the vulnerable, relief distribution and management etc. and have been sensitizing the common people about the COVID-19. The produced products are rotten at farmers due to their inability to take them to market and the government is also unable to manage solutions for this which has severely affected the farming system. This pandemic has taught new lessons to people about the importance of nature and need of maintaining human-nature relationships. The new realization is new forest based enterprises should be developed which can lead to sustainable forest management and economic prosperity. The role of women mayors and deputy mayors during this pandemic has been excellent in Nepal , their coping mechanism and response strategies are far more effective and appreciable.