Province level Policy dialogues begun !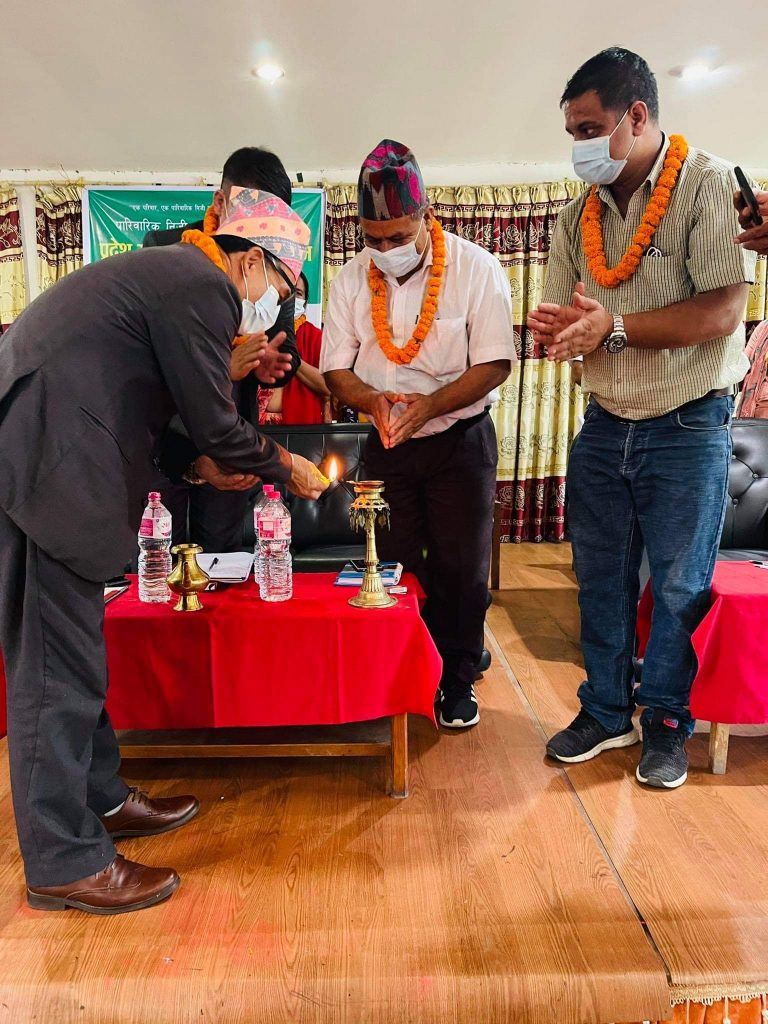 ---
AFFON has initiated the Province level Policy dialogues initiating from Gandaki Province in the invaluable presence of Chairperson AFFON, Mr. Jograj Giri , Treasurer AFFON Mr. Rajendra Bhatta and Program Monitoring and Evaluation officer Mr. Arun Adhikari . The policy dialogue was accomplished in the invaluable presence of Industry, Tourism , Environment and Forests (MoITFE)  Minister Honorable Dipak Gharti Magar , Member of the Secretariat of Nepal Municipal Association and Chairperson of Falebas Municipality Mr. Padam Pandi Sharma and representatives from various organizations and family forest owners , Chairperson Gandaki Province Committee , Mr. Jivan Uchhai Thakuri, Central Vice-Chairperson AFFON Mr. Muktinath Timsina , Central Committee Member , Khum Prasad Subedi , Rumdevi Gharti , Prem GC Lammichhane and others . Few snaps :
Honorable Minister committed that Gandaki Province and the Ministry itself is quite positive regarding the issues of Family Forest Owners from the Province and is ready to prioritize Family Forestry in the upcoming plans and policies . He also added that Gandaki Province Government is also committed to respond the issues of individual Family forest owners from the province.  Also, a 18 pointed Demand paper has been submitted to the Honorable Minister.
After the completion of the program the team had a meeting with the Kaski District Committee meeting where the updates from the district were taken from the Chairperson and members present there. Also, the way forwards and challenges were discussed .
Similarly, another important meeting was attended with Honorable Minister in the MoIFTE regarding overall Forestry related issues.
Additionally, visits were made to Parbat , Myagdi , Baglung , Gorkha and meetings and programs were held with all the district committees discussing about :
Municipal level Committee formation
Ways to conduct discussion programs during the pandemic
Update sharing
Kaski Meeting :
Few snaps of Parbat:
Few snaps of Myagdi :
Few snaps of Baglung :
Few snaps of Gorkha:
Also, a field visit was made to Mr. Ganesh Kumar Shrestha's Family Forest located in Siranchowk , Gorkha .
Moreover, regarding the media mobilization and publicity of Family forestry, series of interviews were given by Chairperson , AFFON Mr. Jograj Giri by Gorkhali F.M, Pokhara Television, Baglung F.M, Kushma F.M. The news links have been shared below:
Few snaps:
https://www.facebook.com/khima.gurung.92/videos/1500626366959608
https://www.facebook.com/PokharaTVHD/videos/570779327681403
https://nepalpatra.com/country/gandaki-province/186911/?fbclid=IwAR2nwhtfUyBgs8fG23C1yPQnmRRdOzD0JPLvhXQEMpjUMqmIxRMyay3XCQk
https://www.aadarshasanchar.com/mainnews/2021/09/16/28717/?fbclid=IwAR34QJj2GIBF3IRStOMEO0Fy4_DyjJRFD7r9vGxHzjeVKdd6kihRDrR7QNE
---